DoD Manufacturing Technology (ManTech) Program
DoD Manufacturing USA Institutes
New, emerging manufacturing technologies and processes hold strategic promise for the DoD, but fragmented or frail ecosystems are at risk of collapse due to infrastructure and workforce complexities. Unfortunately DoD-only requirements are insufficient to establish robust and sustainable technology ecosystems. Instead, advanced manufacturing ecosystems must be built on common commercial and defense manufacturing and design challenges for shared risk and shared benefits. The DoD Manufacturing USA innovation institutes are a key strategic investment for the DoD ManTech program Each institute is designed to overcome many of these challenges by advancing manufacturing innovation for specific, focused technology areas.

Manufacturing USA, formally known as the National Network for Manufacturing Innovation (NNMI), was formally established in 2014. This network includes eight Manufacturing Innovation Institutes lead by DoD, five led by the Department of Energy, and one institute led by the Department of Commerce. Manufacturing USA brings together industry, academia and federal partners within a growing network of advanced manufacturing institutes to increase U.S. manufacturing competitiveness and promote a robust and sustainable national manufacturing R&D infrastructure.
Tenets of DoD Manufacturing USA institutes:
Industry driven public-private partnerships
Regional hubs for manufacturing excellence
Investments in applied research and industrially-relevant manufacturing technologies
Required focus on education and workforce development needs
---
Contact:Email the Program Director
Manufacturing USA Monthly Newsletter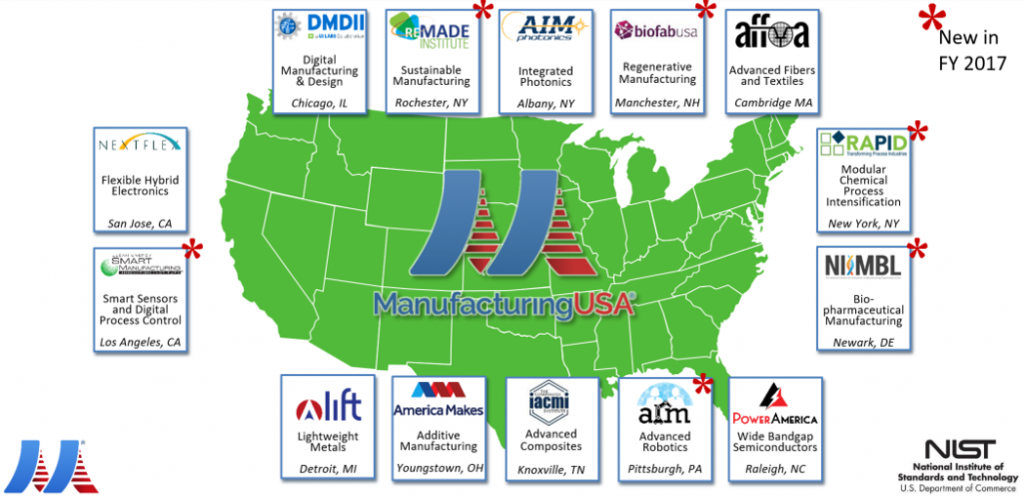 ---
Every day, Manufacturing USA leaves its mark on our industry and nation by bringing together manufacturing, academia and government to fuel a skilled U.S. workforce. Institute collaborations galvanize domestic manufacturing supply chains; grow centers of technological excellence across the country; move products from lab to market in record time; revitalize regional and national economies; and affirm U.S. global leadership.
Each institute has its own technology focus—ranging from lightweight materials to energy efficiency—but all share the goal of securing the future of manufacturing in the U.S. through innovation, collaboration and education.
DoD Manufacturing Institutes
Established: August 2012
Committed Investment: $110M
Members: 210*
America Makes: The National Additive Manufacturing Innovation Institute
America Makes focuses on helping the United States grow capabilities and strength in
3D printing
, also known as
additive manufacturing
. America Makes facilitates collaboration among leaders from business, academia, nonprofit organizations and government agencies, focusing on areas that include design, materials, technology and workforce and help our nation's three-dimensional (3D) printing industry become more globally competitive. -
America Makes website
Program Manager POC:
Dennis Butcher -
dennis.butcher.1@us.af.mil
*This number reflects institute members as of November 27, 2017. Institute membership constantly changes.
Manufacturing USA institutes address the so-called "valley of death" between research and commercialization by convening members that conduct work along different parts of the R&D spectrum and reducing risks. By breaking down market barriers in the right technological areas, the program facilitates the acceleration of U.S. manufacturing R&D.
A major focus of the Manufacturing USA network is workforce development—ensuring that there are enough workers with the right skills to meet the needs of advanced manufacturers. Another priority for the network is that institutes become self-sustaining. A key strength that will help them achieve sustainability is the approach taken by Manufacturing USA, which not only gives each institute enough autonomy to meet the needs of its industry members, but also provides oversight to ensure federal investments are being spent wisely.
Deloitte Study Finds that Manufacturing USA Spurs R&D Innovation
Manufacturing USA is working!
That is the overarching conclusion of a study conducted by Deloitte.  According to the study, the first eight advanced manufacturing institutes established between 2012 and 2016 have reached a critical mass of valuable connections among 1,200 participating companies, universities and government agencies. Those connections are accelerating the innovation needed to develop new products and markets, helping alleviate a shortage of technically trained manufacturing workers, and building a sustainable national manufacturing research infrastructure.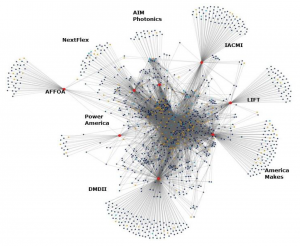 "There are early signs that [the] institutes are reaching 'tipping points' where the organizations see membership as necessary to their own success and seek out membership without being prompted," wrote the study authors.
Deloitte's review examined the effectiveness of the Manufacturing USA's program design, assessed progress made toward achieving program objectives, and recommended areas where Manufacturing USA and its institutes could enhance programs.
The study team's conclusions flow from stakeholder interviews with agency personnel, institute leadership and staff, CEOs and leaders of Fortune 500 companies, and independent external experts in manufacturing from prominent research universities and industry groups. The team made site visits to the eight institutes and used crowdsourcing applications to determine how a diverse array of institute participants benefited from the Manufacturing USA network and how it could better serve them.
The institutes have already attracted hundreds of members, including "influential U.S. companies such as Boeing, GE, Johnson & Johnson, Lockheed Martin, Ford," and others of various sizes and at different points along the supply chain and R&D pipeline. The evaluation found that the institutes have created "true public-private partnerships that are successfully uniting academia, industry and government across the country."
Deloitte found "numerous examples of companies connecting and working together in ways that would not have occurred independent of the institutes." These various projects are helping to reduce the cost and risk of experimentation, which means that each member's investment goes farther.
---
Download the report: Manufacturing USA: A Third-Party Evaluation of Program Design and Progress
Find more detailed information on Manufacturing USA institutes here.