Joint Additive Manufacturing Groups
The Joint Additive Manufacturing Groups
The Joint Additive Manufacturing Groups are cross-cutting DoD communities focused on communication and coordination among the Services and Defense Agencies to maximize the application of additive manufacturing (AM) in support of the warfighter and sustainers.  Formalized in July 2017, these groups consist of leaders from their organizations that engage across the Department and other Federal agencies, industry, and academia to reduce barriers to adoption of innovative AM technologies that benefit the Department and the warfighter.
DoD Additive Manufacturing Vision
Additive manufacturing (AM), or three-dimensional printing (3DP), is a family of technologies that uses three-dimensional models to build objects layer by layer. The Department employs AM to produce high‑quality, reliable products for warfighters and sustainers efficiently and collaborates in research, development, acquisition, manufacture, and sustainment of AM-enabled products, systems, and capabilities.
The Joint Additive Manufacturing Groups' initiatives align with the National Defense Strategy as rapid production of prototypes and end items using AM can reduce down time, increase readiness, enable more lethal systems, and facilitate rapid field response to forward deployed operators.
Objectives of the Joint Additive Manufacturing Groups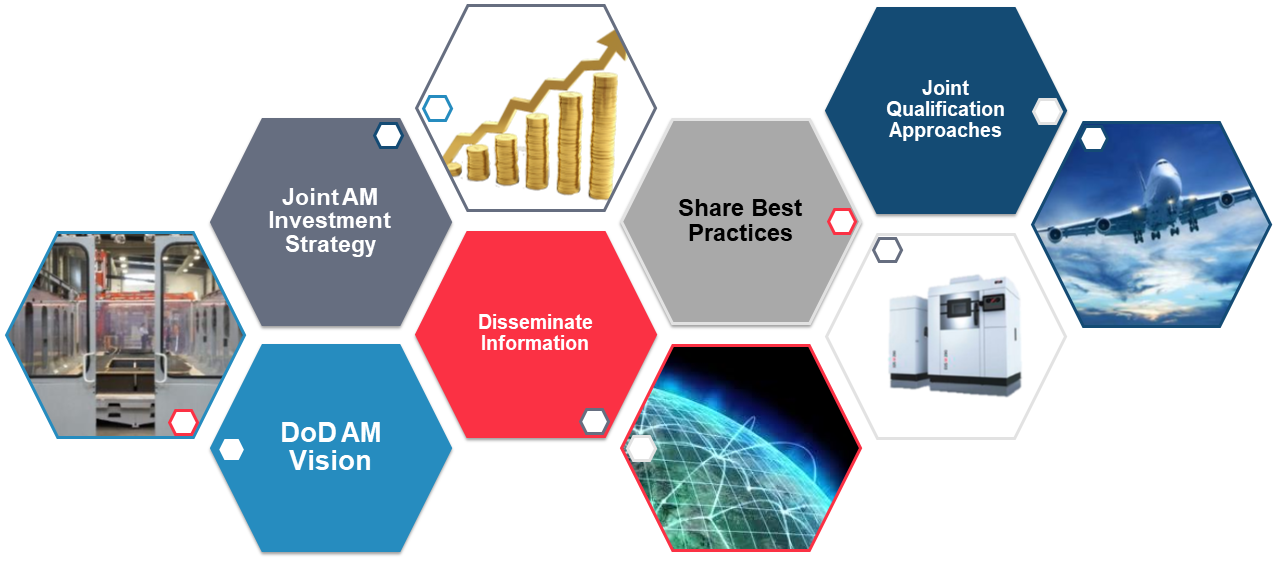 DoD Joint AM Organization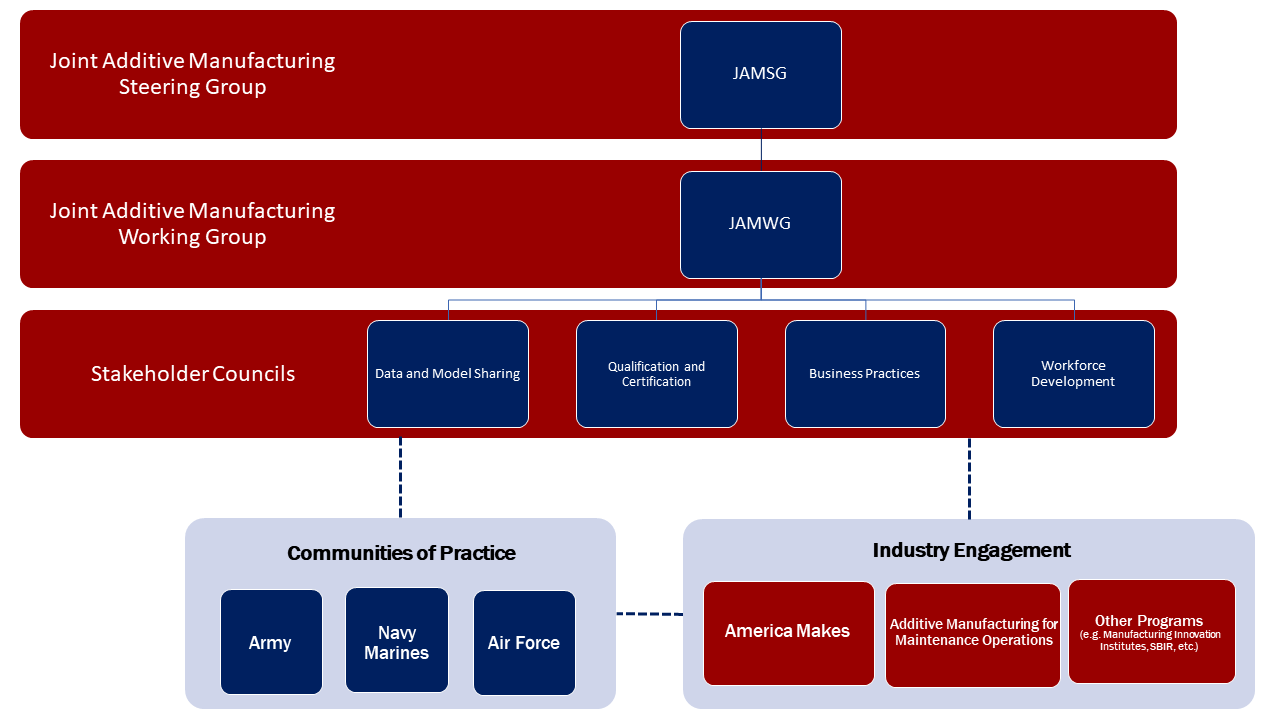 The Joint AM Groups include representatives across the Department, including:
AIR FORCE
Air Force Acquisition, Technology, and Logistics

Air Force Life Cycle Management Center

Air Force Research Laboratory
ARMY
Office of the Deputy Assistant Secretary of the Army for Strategy and Acquisition Reform
Army Logistics
Army Research Laboratory
Army Materiel Command
LOGISTICS
Joint Staff Logistics
Defense Logistics Agency Information Operations
Defense Logistics Agency Logistics Operations
NAVY and MARINE
Office of the Assistant Secretary of the Navy Research, Development, and Acquisition
Naval Operations for Fleet Readiness and Logistics
Office of Naval Research
Marine Corps Installation and Logistics
OUSD(A&S)
OUSD(A&S) Materiel Readiness
OUSD(A&S) Logistics
OUSD(A&S) Industrial Policy
OUSD(R&E)
Office of the Under Secretary of Defense for Research and Engineering (OUSD(R&E)) Strategic Technology Protection and Exploitation
OUSD(R&E) Systems Engineering
MDA
Missile Defense Agency (MDA) Component and Materials Engineering Division
DCMA
Defense Contract Management Agency (DCMA) Headquarters Technical Directorate
Partnerships, Plans, and Reports
DoD Supported Additive Manufacturing Partnerships
Additive Manufacturing Standards Searchable Site
Links to Key DoD Additive Manufacturing Plans and Reports