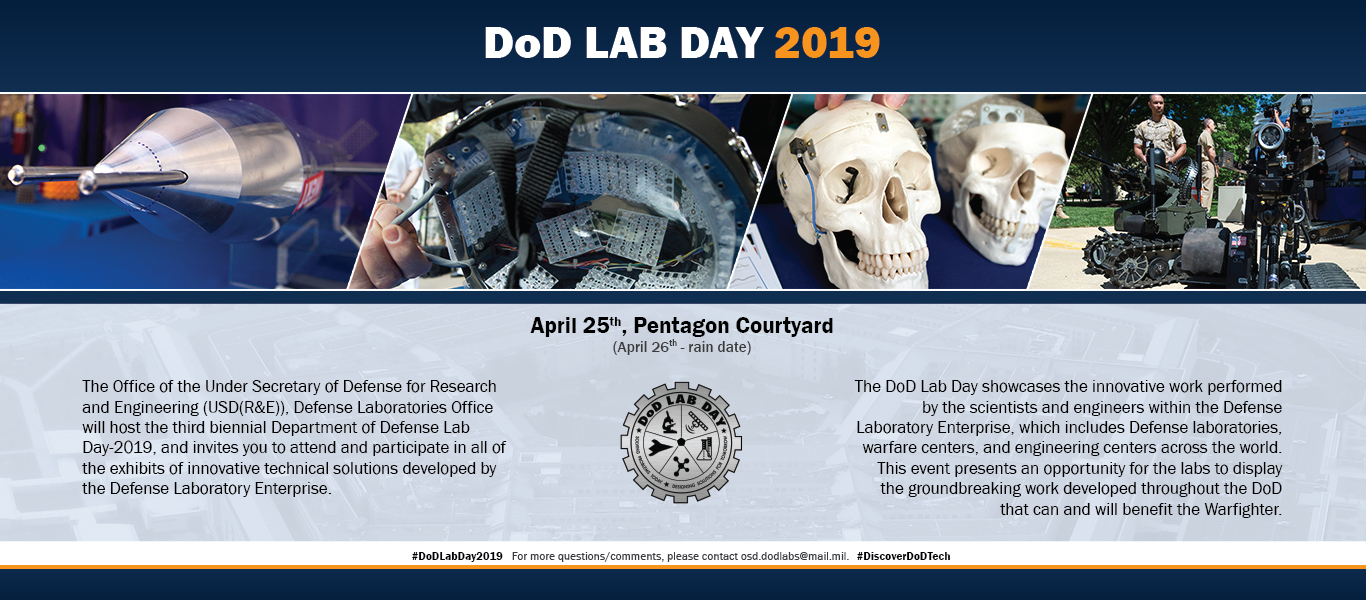 DoD Lab Day - 2019
Pentagon Courtyard, April 25, 2019 
(April 26, 2019 - rain date)
The Department's enduring mission is to provide combat-credible military forces needed to deter war and protect the security of the United States. The DoD maintains and operates a diverse laboratory enterprise, which acts as a key enabler to help the Nation sustain a more lethal, resilient, and rapidly innovating Joint Force. The DoD laboratories focus on the research and development needed for the next generation capabilities that provide the warfighter with a technical edge. Their efforts develop solutions to near and long-term challenges, such as designing new tools for cyber defense, evaluating new concepts for autonomous vehicles, and advancing military-critical technology in areas such as advanced computing, "big data" analytics, artificial intelligence, autonomy, robotics, directed energy, hypersonics, and biotechnology.
The Under Secretary of Defense for Research and Engineering (USD(R&E)), Defense Laboratories Office (DLO) will host the third biennial Department of Defense Lab Day-2019, and invites you to attend and participate in all of the exhibits of innovative technical solutions developed by the Defense Laboratory Enterprise.
Additional information and details of the event will be provided at a later time. We hope everyone can join. Please mark your calendars.
For more questions/comments, please contact osd.dodlabs@mail.mil.