2019 Space Community of Interest
Independent Research & Development
Technology Interchange Meeting: 18-22 November 2019
Mark your calendars!
Don't miss the opportunity to meet with the Department of Defense's team of Space experts in November 2019!
During the week of 18-22 November 2019, the Department of Defense's (DoD) Space Community of Interest (CoI) intends to sponsor the 2019 Space Independent Research and Development (IR&D) Technology Interchange Meeting (TIM) at Kirtland AFB in Albuquerque, NM. The invitation is open to all industry IR&D participants, including large and small businesses, as well as academia.
This engagement has broad goals to increase awareness, stimulate collaboration, and seek alignment between industry's IR&D innovation portfolios and DoD's high-priority science and technology needs and corresponding acquisition sustainment roadmaps. Space Subject Matter Experts (SMEs) from the DoD are expected to participate.
The 2019 Space CoI IR&D TIM will address the following areas of significant interest to DoD:
Integrate communications across the DoD to form the combat cloud
Layer PNT services onto every communication link
Develop proliferable laser communication systems
Develop V/W band radio frequency (RF) communications systems
Cognitive radio development
Improve situational awareness
Improve sensors for whole-Earth staring while maintaining/improving bogey georeferencing & track accuracy
Improve data fusion algorithms while maintaining/improving computing tractability and multi-source drop-out resilience
Improve quantification of and improvements in anti-spoofing and false alarm rejection
Increase persistence
Improve data compression
Improve algorithms for collaborative collection/tasking strategies and data sharing among space, air and ground ISR
Space Domain Awareness (SDA) from very low LEO through cis-lunar
Low SWaP, proliferatable on-board sensing technologies (objects and spectrum)
On-board cyber protection elements
Algorithms for autonomous satellite response
Multi-object and non-Keplerian tracking algorithms
Reduce cost and cycle time and launch-on-demand
Higher performance on-orbit propulsion
Enable reusable launch systems
Improve specification and forecast of Earth/Sun environment
Enable real-time weather threat warning
Improve marine meteorology and monitoring of ocean conditions
Increase autonomy to reduce manning
Space robotic capabilities for servicing/repair
Heterogeneous processing and rad hard electronics
Deployable structures; carbon-based nanotechnology
Multi-agent autonomous navigation and guidance
Rendezvous and proximity operations
Ultra-high efficiency power systems (arrays, batteries, PMAD)
High flux electronics cooling; spacecraft thermal control
On-orbit propulsion; multi-mode propellants
Standardized and miniature components and interfaces
On-board adaptive planning
Local area imaging sensors
Laser survivability
Resiliency through space effect reconstitution and augmentation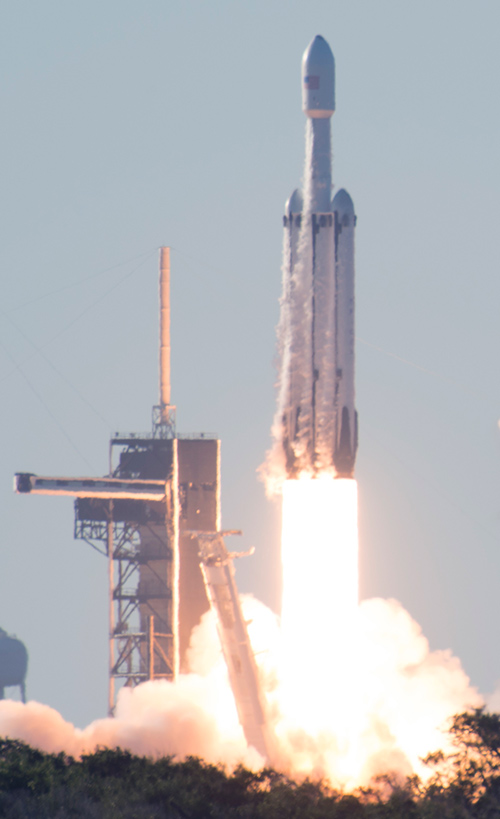 45th SW supports second successful Falcon Heavy launch: SpaceX's Falcon Heavy Arabsat 6A lifts off from Space Launch Complex 39A at Kennedy Space Center, Fla., April 12, 2019. This flight marks the second launch of the Falcon Heavy rocket; the most powerful space vehicle flying today. (U.S. Air Force photo by 2nd Lieutenant Alex Preisser)
If you are interested in participating
Please send expression of interest to the following email address: dtic.belvoir.ecm.list.space@mail.mil.
Once we receive your expression of interest, we will send additional instructional data on how to
nominate IR&D projects. If you do not hear back from the IR&D planning team within one week,
please resend the original email.