2019 Weapons – Sensors – Autonomy
Communities of Interest (CoIs), Independent Research & Development (IR&D), Technology Interchange Meetings (TIMs)
During the week of 1-5 April 2019, DoD's Weapons, Sensors, and Autonomy Communities of Interest (COIs) have joined together to sponsor the crosscutting 2019 Weapons – Sensors – Autonomy Communities of Interest (CoIs) Independent Research & Development (IR&D) Technology Interchange Meetings (TIMs) being held in parallel with the National Defense Industrial Association's (NDIA) 20th annual Science & Engineering Technology (S&ET) Symposium in San Diego, CA. The venue is expected to be the San Diego Marriott Mission Valley, San Diego, CA. The invitation is open to all industry IR&D participants, including large and small businesses, as well as academia.
This engagement has broad goals to increase awareness, stimulate collaboration, and seek alignment between industry's IR&D innovative portfolios and DoD's high-priority science and technology needs. Leading Subject Matter Experts (SMEs) from DoD's Weapons-Sensors-Autonomy CoIs are expected to participate.
The data presented on this webpage is also included in the Federal Business Opportunities (FBO)  announcement. Only one announcement is anticipated for this event in the FBO site. Any further detail adjustments and updates will only be posted on this webpage.
This meeting will focus on the following crosscutting focus areas:
This is a new Sensors subarea, with strong Weapons and Autonomy components. Radio Frequency (RF) and Electro Optics (EO)/Infra-Red (IR) target ID, cross cueing and sensor fusion, Machine Learning (ML) and Artificial Intelligence (AI) algorithms for real time target detection, classification, tracking. Target detection for bi-Static and multi-Static radar, Autonomy focus that automates the battlefield, with advanced algorithms, augmented reality, autonomous vehicles, and asymmetric vision.
Weapons and Sensors interest. Natural and manmade obscurants continue to trouble even modern sensors. Need for Active/Passive multipurpose sensing & Advanced 3-D Read-Out Integrated Circuit (ROICs) for multifunction capabilities. Seamless synthetic reality on immersive heads up displays is also of significant interest.
Autonomy focus with Weapons and Sensors application. Formally composable software systems which provide rigorous principled guarantees for autonomous systems using the architecture (i.e., interoperability, safety, functionality, flexibility, etc.). Seamless interfaces, data exchanges between/among heterogeneous resources/assets and needs for human-machine interface (minimizing risks in semi-autonomous systems) call for standards in system architecture including languages, governance, and operational protocols. Innovative approaches are needed to identify critical elements of the analytics enterprise and employ a hierarchical hardening methodology.
Weapons, with Sensors and Autonomy applications. Seekers, datalinks, control methods that are robust in adverse weather, can exploit multiple tactical and intelligence, surveillance, and reconnaissance (ISR) networks, ad-hoc secure adaptive networks, decentralized path planning and cooperative control algorithms. Autonomy governed by data fusion can form the central theme for an enterprise system of systems-level architecture. Some of the key considerations from an analytics standpoint are accuracy/precision, risks, latency, and above all, adequacy and sufficiency for acceptance.
Autonomy/Weapons interest. Methods, Metrics, and Tools. Requirements Development and Analysis, Evidence Based Design and Implementation, Cumulative Evidence through Research, Development, & Operational Testing, Run Time Behavior Prediction and Recovery Assurance for Autonomous Systems are highly significant interest areas.
Sharing your IR&D Projects
Nominated projects shall reside in the secure IR&D database. Each IR&D topic summary submitted into the IR&D database will generate an eight-digit (Example: 18001111) Record Number as a unique identifier. The nomination process will be complete once an email with the Record Number(s) of your submission(s) is submitted to dtic.belvoir.ecm.list.weapons-marketplace@mail.mil using the excel spreadsheet you received when expressing interest in this event. If you do not receive confirmation your submission was received within one week, please resend original email.
If the IR&D data being nominated is not in the IR&D database, please click on "Submit your IR&D project data here" on the right-hand-column of the webpage. Follow the input format to submit your project nominations. To obtain access to the IR&D database, please visit our Industry webpage. If this is your first time responding to an announcement, obtaining the required access to the IR&D database may take one week.
If the IR&D data being nominated is already in the database, you will not need to re-enter this data. Simply email the excel spreadsheet containing a list of the Record Number(s) (total limit of 30 with no more than ten for each COI domain, to the same dtic.belvoir.ecm.list.weapons-marketplace@mail.mil email address by COB 16 January 2019. Submission of these records does not guarantee participation in the event. Nominations received after the closing date and/or not initially submitted to the IR&D database will NOT be accepted.
The Weapons, Sensors, and Autonomy COIs have availed strategic and informative documents that are accessible through the electronic library.
Please send expression of interest COB 16 January 2019 to the following email address:
dtic.belvoir.ecm.list.weapons-marketplace@mail.mil. Once we receive your expression of interest, we will send additional instructional data on how to nominate IR&D projects. If you do not hear back from the IR&D planning team within one week, please resend the original email.
The government is not obligated to enter into a contract with industry as a result of this technology interchange meeting including the dialogue that occurs during the April 2019 event. Data exchanges as a result of these dialogue activities follow No Foreign Nationals (NOFORN) and International Traffic Arms Regulations (ITAR) restrictions. Some information we intend to share may be classified or unclassified and will not be approved for unlimited public release. Please recognize dates and locations listed are subject to change. Please stay tuned to subsequent announcement updates. Thank you and we look forward to these government-Industry technology engagements.
Note: Government technical support contractors may be a part of the team of SMEs at the event, and company-to-company Non-Disclosure Agreements may be necessary.
Please address any questions about the technical intent of the engagement, the reference documents, or processes used for this event to our team at dtic-belvoir.ecm.list.weapons-marketplace@mail.mil.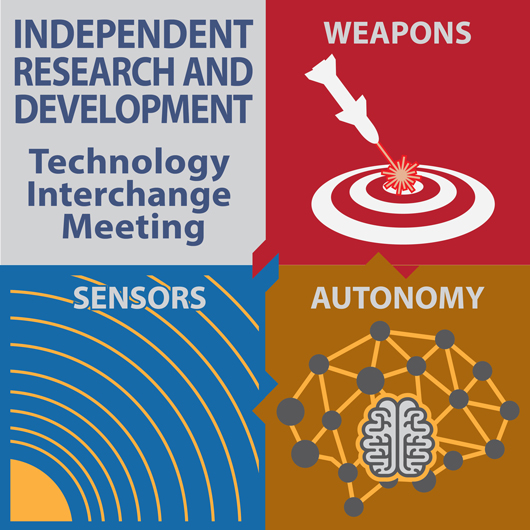 Mark your calendars!
Don't miss the opportunity to meet with DoD's experts in Weapons, Sensors, and Autonomy technologies in
April 2019!!